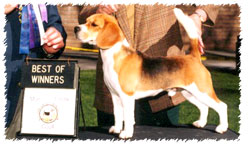 AWOL BEAGLES raises and shows lovely AKC Beagles in both varieties, 13″  and 15″.  For quality family pets, companions and winning show dogs GO AWOL!
We offer Puppies and Stud Service
All of my Beagles are born and raised in our home … a log house on 15 acres in the mountains near San Diego, California. The pine trees are home to squirrels and birds of all kinds. Rabbits abound … much to the joy of my Beagles that love to pursue them. I don't think there is a happier sound than a Beagle "bar-rooing" as it chases a bunny–matching it leap for leap and bound for bound!