CH DISMAL CREEK'S NEVER A DEVIL "Saint"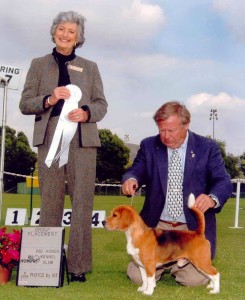 Saint was the number three 13″ Beagle at the end of 2005.
Ric Plaut, my professional handler guided Saint, bred and co-owned by Pat Seifrid, to the position of number four 13″ Beagle in the country in 2005.
This was accomplished without any advertising at all.
Saint won on merit alone! If Saint isn't out at shows with Ric he's here keeping an eye on the latest crop of bunnies.
This top winning show dog hasn't caught one yet but that doesn't keep him from trying!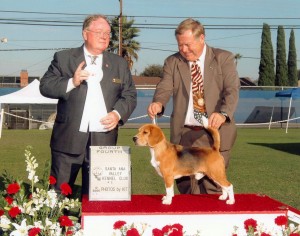 He is a tri-color and can produce red & white offspring.
Pedigree of CH DISMAL CREEK'S NEVER A DEVIL